Lighweight vests for summer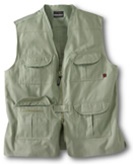 For those of us living in the part of the Country where we get all 4 Seasons of weather, our concealment options usually will change atleast 2 times a year.    There are enormous numbers of ways you can conceal a weapon, but for those of us that carry full size weapons, the warmer the weather the fewer the options.   I carry a full size Beretta 92F while at work and one of my favorite ways of carrying this firearm is in a Fobus paddle holster.   For only about $20, I've gotten more than my moneys worth and have never broken the holster.   I'd have to say that if I was rolling around in the dirt I would defanitely prefer to have a Serpa holster.
The Woolrich Elite lightweight vest is made of a 100% cotton ripstop material that is identical the the Woorlich Elite lightweight pants and shorts.   These make carrying gear and concealment tolerable in hot weather.   These Woolrich Elite Vests are very popular with the IDPA crowd and being cut generously on the sides give great concealement, especially for those carrying full size autos.   We've had a few goofy complaints from customers that have stated that these vests are not good for concealing firearm if you put them in the pockets, and we would agree, these are basically made of the same type of material that your T-shirt is made out of and your gun will most likely print if you put it in the front pockets.   The concealed carry vest is meant to be a concealment garment and not a firearm retention device.   There are other concealment vests out t here that cost 3x's as much money and can be used to hold firearms, but those are not lightweight.