AR15 Complete Upper Receivers for sale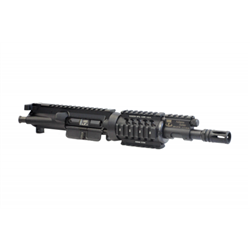 Many people are still finding out how easy it is to "build" their own AR15 configurations.   With the political changes in Washington DC, the firearm industry is in a full reset.   Many in this industry had a free ride with the previous Administration pushing a political agenda which artificially drove up gun sales.   I'd have to say that in 2018, I expect that atleast 50% of firearms sales are going to be done online, and those sales are going to increase.   People are very particular about what they want, the sights, the handguards, the triggers, the grips, that you can just find an FFL to do the transfer and get exactly what you want instead of expecting to have a gun store already have it in stock.  Many People still buy their AR15 Complete Upper Receivers and don't build them.   They buy the complete upper with the handguard they want, and sometimes the sights.
There are always changes being made, from MOE stocks to Keymod and M-Lok.   There recently has been a trend back to quad rails because people are finding out that you don't have to worry about your rail design becoming discontinued.  Quad Rails will always be around.   Many of the AR15 Complete Upper Receivers we sell will come with fixed sights, Magpul Sights and sometimes Troy Battle Sights.  The ever changing optics world has moved people away from iron sights to red dots with magnifiers and now towards variable low powered optics.   We still move a lot of Spikes Tactical Complete Upper Receivers, Adams Arms Complete Upper Receivers, LWRCI Complete Upper Receivers and CMMG Complete Upper Receivers.    They each have their pros and cons, sometimes its all about price point.