Firearms Accessories are like opening a tool box, Crimson Trace Laser Grips……..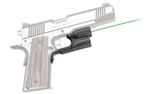 One of the best analogies I've ever heard when discussing a Mini 14 vs AR15 debate over on the The Firing Line.com was a debate about how crappy the Mini 14 was and how it didn't hold up.   I remember a talking to someone that referenced that the difference between various rifles was the difference between a 9 iron, a wedge and a putter.  The Golf analogy has stuck with me and have often used it in Training, even when people talk about different ammunition from M193 to M855 and the M262.    Each one of those has a different velocity and terminal ballistics.    When the discussion is about Trijicon ACOGS, Eotechs and Aimpoints, the same analogy applies.   The AR15 is probable the most versatile firearm in existence and adding different optics and accessories to it can give you a short range advantage or a long range advantage and often, not both.
A good operator is going to know the limits of his firearm and push the envelope if even need be and the usefulness of Crimson Trace Laser grips isn't going to be different than any of the previously mentioned topics.  One thing that I have recently proven to myself is that green lasers have an advantage over red laser grips at longer ranges.  One reality about firearm engagements is that "hits" are what count and being under stress is something that many never push themselves to train for.   Lasers are good for I.D. Targets and if you've ever been in low light situations the ability to point, still defend yourself and know where your muzzle is actually at, Crimson Trace Laser Grips might give you an advantage in your home or in your line of work.