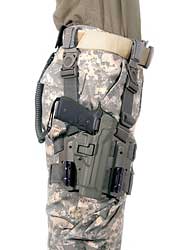 Holsters have come a long way in comparison to what the Cowboys and Military use to store their sidearms.   Most holsters were  held in place by gravity, straps or buttons for hundreds of years.    The Blackhawk Level 2 Serpa leg holster is my favorite way to carry a sidearms whenever I'm toting a rifle or carbine.   I've rolled around enough in the dirt to know that gear can fall off when the pace is sped up.   I've seen guys loose sidearms and pistil magazines just by bending over or rolling around.
This is one of those little issues that the less trained figure out real quick.
Concealed carry is one thing, but in my line of work, I want to know that if my M4 goes down, my sidearm is locked into place and always going to be there.   The Blackhawk Serpa Level 2 Serpa leg holster locks the pistol in to place and can easily be released with the trigger finger engages a lever which is in the same position your finger would be if resting in the safe position.