Streamlight Flashlights from the Protac 2L to the rechargeable Strion and Survivor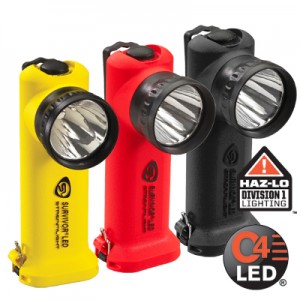 Streamlight is one of those "staples" in this industry and even though Surefire is pretty much the comparison to Streamlight, there is always a niche that one does better than the other.    There have been some price drops for some of the Surefire G2 models and it's basically due to the improvement of technology and manufacturing ease.    I went through that xenom flashlight faze and all of the LED upgrade but now that LED has been around so long, there are newer generations with much larger output.   Even though flashlights are considered bullet magnets, if the flashlight is damn bright you aren't going to see anything if you are close to it.  Sure at distances you are drawing attention to yourself and if somebody sees that they might fire on you, but we're not talking about SWAT tactical or Military operations.  For close situations something like the Streamlight Protac 2L which I highly recommend with the CR123 battery type is a 260 Lumen flashlight.   The strobe features are nice if you train with it but can also be very annoying for non-tactical or defense purposes.
The size of the flashlight, the make up of the body and the output and run time are making flashlights, lighter, stronger and better.     What usually throws a monkey wrench into the reputation of some flashlights are when you are putting mounts on them or running pressure switches.   I have had a higher failure rate with some click on and off flashlights compared to the screw on cap lights, but no where near what pressure switches have.   Pressure switches need better mounting to avoid breakage and excessive wear and so many people don't pay attention to that.  Get a cord that gets the job done and don't allow it to be able to bent back and forth.   There are some interesting ways of running them through handguards so read up on it.    The HL or High Lumen flashlights like the Strion HL have the perfect size Streamlight LED Flashlights for most Law Enforcement, the Streamlight Survivor is heavily used in Fire and Rescue.