Firearm training and DVD instructional video just broader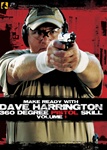 I have a great many gun dvd's in my collection and they are mostly of value, but I did have a few that I lent to a friend for comical reasons, but unfortunately they got lost and there's no way in hell I'll spend the money for another batch of them.    Now that DVD editing has gotten better and easier to do, more firearms trainers are taking to the camera eye.   There are several people that I would love to train with, but like many people I can't take 3 days off from my day job.  I subscribed to the Outdoor Channel over a year ago, but sadly most of the shows I watch are producing so few shows that I've already seen the same ones 4 or 5 times and I'm itching for something a little more complicated.
We just got word that Travis Haley just got done shooting "Adaptive Carbine" training course and will be out in a few months.    Considering the names that I am seeing on the Make Ready gun dvds,  I'm sure that Fernando Coelho knows the people to get in front of the camera and how to sell a DVD.   I think all of these DVD's are a great thing because the production is so well done and gun owners will have easy access to important tactics and safe gun handling skills.   I think there are too many people out there that own AR15 rifles that don't know the proper ways to maintain or handle them.