Keeping spare parts around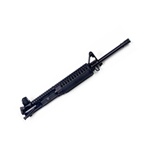 This weekend I got a rare chance to actually get out and practice some urban combat tacticals and had the most fun I've had in awhile.   A few months ago I did some practical handgun defensive shooting training, but I kind of lost the feel of recoil and that's not something i like to feel when I'm on the range.   I have in the past pushed myself to practice shooting defensively from a cold mindset.   What do I mean?  Nobody warms up to a self defense situation, sometimes you are thrown into it.
Once you have your safe gun handling skills down, there's nothing wrong with pushing yourself.   I recently got a reminder about checking things on a firearm before training though.  I carry lots of spare parts for my AR15 bolt, but I didn't have a stock tool or spare detent pin and springs.  I watched a few gun dvds, specifially the AR15 Armorer's course with Dean Caputo.  One good thing about having something like this is being able to identify the parts that go in certain areas and what they are used for.