Some feedback after finishing the Dean Caputo AR15 armorers course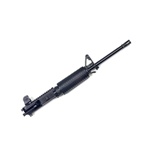 It has been several decades now that I have been shooting firearms and we're working on the second decade of military style semi-auto experience.   Some of the guns I have  owned in the last 10yrs are breaking down from time to time, but I'm still learning about the firearms. When something breaks,  its somewhat fun to learn about how a firearm was designed and how much trial and error went  into a firearms design before it was done right.   All of those little springs and detents probable came about after trying other things, but they are all very important parts of keeping  a firearm running.
Recently I had a stock come apart on my and the spring and detent fell out, I couldn't find the stock wrench that I had so I had to pick up another one from Tapco.   It is now staying in my range bag,  I've had magazine failures and ammo failures, but getting the AR15 Armorers course gun dvds is a good gift or good thing to watch with your gun buddies.   There are good ideas on keeping gun parts and small compact gun tools around to keep your gun up and running or get it up and running when you're at a range.   Something like a $1 spring can shut your gun down for the day if you weren't prepared.