gun safes that don't burn money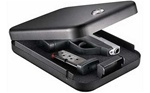 Ever since I had a family and knew that I was going to have kids around the house that would eventually figure out where Dad kept his firearms, I picked up several gun safes.   There are some pretty expensive gun safes out there, namely the biometric safes, but those are really meant for quick access use of firearms.   One safe isn't necessarily better than the other, it's really about what you intend to do with it.   Some of these gunvault gun safes are really good for storing jewelry or personal records like birth certificates ect.   In this day and age there are many reasons why you will want to know where you birth records are for your kids because they need to be submitted for many reasons.
The gun safes that we are actually selling the most are the gunvault nano vault safes.   The reason these safes are selling so well is they are easy to  use and the least expensive gunvault safes we stock.   For less than $40 you can get an easy to store and move gun safe.   They are great for travelling especially for people that are in and out of hotels.   There are plenty of situations where you may not be able to bring a firearm with you and leaving it loaded in a room where a room cleaner may come is not a  good idea.   Lock it up and hide it under a bed or in a corner.