Gunvault Gun Safes finding one that suits you best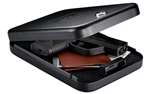 I've been working with Gunvault Gun safes for well over 20yrs, there have been design changes, improvements and even corporate changes.   There are several other brands out there but they may not be best for accessing a firearm quickly.   From my personal experience, there isn't much of a need to keep a gun in a bedroom that isn't locked up.  My biggest concern with bedside guns is, what if you aren't in the house?  The bedroom is the first place the bad guys go for jewelry and other valuables, not leaving a gun around is a good thing.
Recently we have had several seminars in our store about Concealed Carry, people need to know that there are some places you can't carry a firearm and you might have to lock your gun up in your car.   You also need to know how easy it is to break a window and grab that firearm that is stuffed under your seat.   The Gunvault gun safe that is a good fit as  a car safe is the Gunvault Nanovault.   They are in the $40 price range and you can use the wire cord to wrap around a car seat and through the safe to secure it.   Illegal guns end up on the streets through Straw Purchases or theft, so don't make it easy for the bad guys.