Trijicon HD Sights indoors and outdoors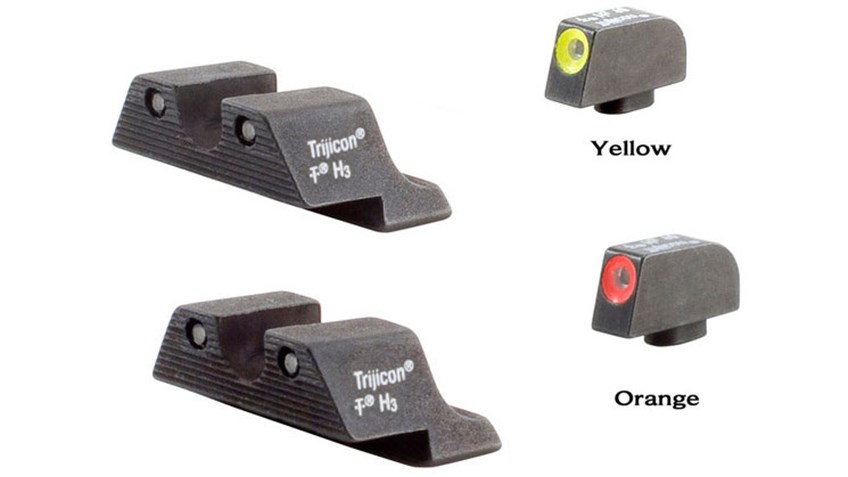 Many of the firearm manufacturers have caught on and are now making firearms with Trijicon High Definition Sights or Trijicon HD Sights directly from the factory.   One of the reasons buying firearms off of websites like Gunbroker.com and other places is you can do the least amount of gunsmithing and pick out something you want.   Sights and triggers and often grips are changed and it can add up to being a giant waste of money to have to take things off of a stock firearm to get it the way you want.  Trijicon products are all built around their famous Tritium and fiber optics for rifle scope and Night Sights.   There really isn't a lot of competition out there and for robust and easy to replace sights, these are our number one "switch out" sights for handguns.
One of the main selling points of these sights is they do extremely well as night sights, but for outdoor shooting, the fiber optic is built into the front sight and glows extremely bright.  Trijicon HD Sights are purchased by Special Operations units, Law Enforcement and your every day CCW holder.   They are available in various patterns, front Yellow, Front Orange, and green dot rear sights.  Trijicon also has them in Novak configurations for 1911s and for those of you that might have picked up a Sig P320, the Trijicon Sights for Sig Sauer Pistols are the same as the P225, P226, P228, P239, and P320 (Excluding P938).