Upgrade from your army surplus gear holster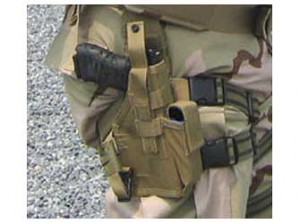 As SWAT Teams have changed their gear, so have the holsters they use for sidearms.   Something like a leg holster for Police or LEOs were not very common since Sheriffs stopped riding horses and started to drive cars.   Now  you'll be lucky to find a SWAT Team where leg holsters aren't being used.  If you've got to tote an M4 around there really isn't a good way avoiding snagging or arm movements if you've got a paddle holster or OWB holster on.   Galco Holsters,  Blackhawk and Safariland are by far some of the more popular brands with a diverse product line for concealement and tactical purposes.
Like people, gun holsters come in all shapes and sizes.    Holsters can be made out of nylon or they can be made out of kydex.   Years ago there were not as many options other than the military style holter or thumbreak holsters.    Most gun holsters were made out of leather and the balance between protecting a firearm and making it easy to draw from was pretty bad.    Most holsters were meant for LEO or Military personal, but not for concealment.    Pocket guns have been around for hundreds of years, but every since the semi-auto pocket guns came on the market, worrying about lint build up and avoiding gun printing was problematic.