The other ways to CCW, Elite Survival Systems Holsters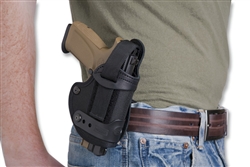 There seems to be a major wave towards Kydex holsters but I have to be honest,  I  have broken so many kydex holsters that I can't really claim they are some major advancement.   The things I like about Kydex holsters is when you need to re-holster a firearm, you can hear it go in and you can also easily do it.   Most leather holsters will begin to flop over time and you may need to open them up a little when re-holstering, but the good thing about leather Duty Holsters or IWB and OWB gun holsters is they tend to last a very, very long time.   I have never been able to completely move away from using nylon holsters because there are just certain methods of carrying a firearm that make me choose a less expensive option but it gets the job done.  One of the most popular selling holsters in our store is just slightly over $20 and it is the Elite Survival Systems Belt Clip holster.
There aren't too many options out there for the Glock 42 and the size 7 BCH holster is an ambidextrous holster that you can use inside or outside the waste band.  If you need a quick option for your Glock 26 or Glock 27,  Elite Survival Systems Holsters has a inexpensive CCW holster for you.  Don't forget about belly bands and ankle holsters, but those will take some adjustment to because they are primarily backup gun options, primarily the ankle holsters.  Shoulder holsters still have their place and Elite Survival's nylon shoulder rigs all come with magazine pouches so for medium and large frame auto's these are very comfortable options to consider.   Pocket magazines are also available and highly recommended if you are carrying a small capacity magazine.