We can give you gun holster options, and point you in the right direction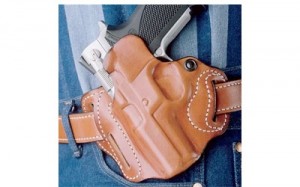 We can't accommodate everyone in this industry because the tactical world is much like the restaurant business.  What do you want for dinner?  Are you for Italian Food, Seafood, going away camping?   There are a lot of advantages with Kydex holsters but we've seen so many of them break, that leather still seems to have an edge for longevity, even the cost of various types of leather holsters can vary in quality and features.  I'm still old school with shoulder  holsters, especially when I'm toting a large frame revolver or semi-auto handgun.   The Galco Miami Classics are still very popular with detectives but there are plenty of people buying smaller "off duty" handguns and recently many of our Law Enforcement are looking for Diamondback .380 holsters and Glock 42 holsters.  It always takes awhile for the holster market to catch up to the sales of new firearms but if it's a good firearm, someone is going to make a holster for it.
If you are looking for leather  holsters, we often point people towards Desantis Holsters, Galco Holsters and Don Hume holsters.   Each of these holsters has different qualities and styles and the vary from expensive to inexpensive depending on the one you want.    If you are looking for inside the waistband gun holsters there nylon holsters like the Elite Survival Systems belt clip holsters which are very universal and fit a lot of firearms and are also ambidextrous.   The Desantis Insider is pretty popular because they are a little over $20 but leather sometimes has its drawbacks in very hot weather.   The new rave seems to be tuckable holsters and Galco Holsters has a pretty big selling rate for the Smith & Wesson bodyguard, check out all of the products we sell and if you don't see what you are looking for feel free to ask.