Desantis Leather Holsters, Desantis Scabbards are excellent Holster Options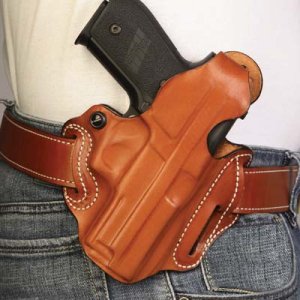 One of the first things to factor in when you are looking for a  holster is security, your personal comfort and whether you want a quick on off holster.   I'm a big fan of paddle holsters for a reason, but we sell a lot of the Desantis Thumb Break Scabbards and the Desantis Speed Scabbard holsters.   Thumb break holsters are considered to be old-school to some people, but releasing a firearm this way is very natural, just look at all of the Safariland ALS holsters, the new Elite Survival Holsters and the 5.11 Thumb Drive holsters.   Desantis Leather is probable in the Top 3 Category for best looking or nicest looking leather.   I have holsters that are 15yrs old that even though they have wear, are still very sturdy.
There are plenty of IWB holsters to choose from but I've often avoided leather for IWB due to the climates I am usually carrying in.  There is some angle adjustability with these Desantis Holsters with a 3 slot option.  You can play with the different angles and learn why canted holsters can be good.   This is something I often suggest for Medium or Large Frame firearms like the M&P 9/40,   Sig Sauer P229, P226 or hopefully soon the Sig 320 which really has become popular.   Glock firearms are still very popular and these holsters good for Winter Carry or Detective work.