Deep cover, to secondary holster options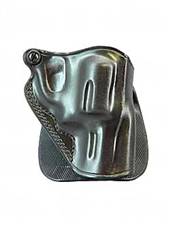 If I am carrying a j-frame in a paddle holster, I'm usually carrying a speed loader and about 3 reloads.    J-frames work very well for deep cover and my primary mindset it to shoot and move and not expect to put up a fight for very long when I'm starting out with 5 rounds.   I can increase my firepower and comfort by carrying the same gun, but with an OWB holster that can easily be reloaded.   I strongly recommend that everyone considers having a paddle holster for every handgun they own.   They also come in handly when going to an outdoor range where you don't have to worry about putting the gun down on the table after every cease fire.
Sometimes smaller guns can work very well in pocket carry, but there are some situations where carrying in the pocket can be cumbersome in certain physical situations.   If you are going to an environment where you don't want to have to carry another gun,  sometimes it's a good idea to carry IWB or OWB with a paddle holster.  Galco gun holsters has a paddle holster that can work very well for even a small 2 inch j-frame.   I use one as a secondary holster option if I don't want to pocket carry.   We can always practice to improve our performances in drawing our guns, but there are certain methods of carrying that are defanitely easier and most likely faster.