Belt holsters and pocket guns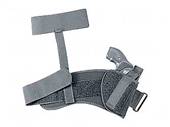 I highly suggest that when people are carrying  a firearm, even if they are not carying  a backup firearm, should at the very least have atleast one other item on them that they could consider using in a defensive application.   Some may sound funny, but if you were a bad guy, getting a set of car keys jammed in their face or having a belt buckle being used as a pair of brass knuckles or a whip is not something they would want to be hit with.   If you are carrying a pocket gun, and don't have the ability to comfortable carry mace or another less lethal weapon, try using a belt that has a slightly heavier than normal belt buckle and remember that you can always use it as a whip if need be.
The best CCW methods are hinderance in other situations.    Something like an ankle holster would be a good backup method or white collar environement where someone in an office environement or seated postion may find it practical.    Driving in a car while dressed up and heading to a wedding may make you look like a nice juicy target for a theif who spots your wifes diamon earings and may target you for a car jacking ect.    Ankle carry can be good in these types of situations.   Pocket carry is probable the most pratical and easiest to access, but you are most likely shooting one of the smallest capacity or caliber firearms.   Ankle gun holsters are completley impractical if you are going to be doing a lot of street walking and trying to pull a firearm from your ankle in the middle of a hostile situation is something I don't even want to think about.