When it comes to duty or primarly weapons, stick with the norm!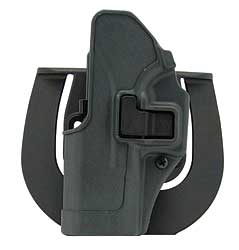 I have people walk in our tactical store all the time asking for some odd ball revolver holsters ect.  I understand people being sentimental about carrying a gun that you had since 1973, but if you have a gun that has been out of production for 30+ years, don't except to many holster companies to be making a holster for it.   We direct people to a local custom kydex company because it's too much work for us to call around to find a holster that once it comes in, it's not what they wanted.   Some leather holsters can cost up to $150 or maybe more depending on what it is you want, but that's really a royal pain to deal with.   We still get Police Chiefs that want to always try something new or in all honesty, you wonder if there are kick backs or something because they ended up with a Beretta PX4 instead of a Glock, M&P or Sig Sauer.
The next headache we deal with is the amount of research we need to do to get a holster for concealment that takes all of the tactical lights that are Police Officers are using on the streets.   The Blackhawk Serpa holsters we have been selling are very popular but there are not a lot of options if you want a Level 3 or a TLR flashlight.  So many people are putting lights on firearms, and that was not common at all a few years ago.  It's always good to have a light on your gun because identify a threat is probable the most important thing you can do and given the statistics for when crime happens (low light) you don't want to be without one.  You might want to think about a Glock.