Simple Solutions for holsters, some feedback from shoppers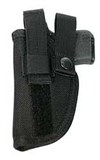 Being in the E-commerce business and having customers walk in, in a retail situation, gives you a very good perspective on how people shop and what actually closes the transaction.  People walk around and pick things up as they go around but until we explain to them that they can try things on, sometimes people go back and put it on the rack. We've had lots of returns and exchanges on gun cases recently because guys pick up a gun case they like and have no idea what the specs are on their handguns or rifles.   It's a very hard thing to do and normally our customers service Reps. are suppose to give our customers our return police because we know we will have a large volume of returns on certain categories of products.  It basically goes with the tactical community.
Tactical Nylon companies are dime a dozen and and sometimes it's very hard for us to stick with one product line for everything.   People want what people want and many of the times they know the Blackhawk Holsters just by knowing the Blackhawk Serpa or  just the prominence of the Warrior wear has being a very successful product line.   We were very disappointed in one of our vendors for not following through and bringing in more of their product lines.   Blackhawk has a very nice rifle case and nylon tactical product line and many Glock owners are using their stuff.  The stow-n-go holsters are probable the best selling CCW holsters for local police detectives.