Don Hume inside the waisteband holsters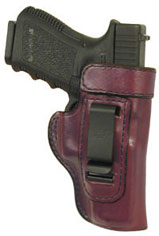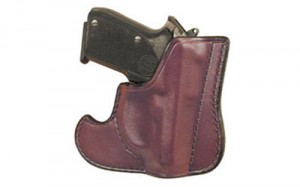 We've been selling these for more than 4yrs and they are still one of our top selling holsters.   From a personal point of view, these holsters are a little rough looking but if you don't want to go with some of the Nylon holsters we sell and are sure you want a leather holster, these are are very well priced compared to the Galco leather and the Desantis leather holsters we sell.  The Desantis insider is a inexpensive leather holster but it's  not as hard and the same priced Don Hume ones.   All leather holsters should have a short break in period because if they don't they may be a little too loose at some point in the not too distant future.   Securing a firearm is what a good holster's primary role should be and not all holsters are quiet, some rattle and allow movement.
Inside the waistband holsters are hard to shop for and I can recommend enough to check with people that are already  using certain holsters before you put too much money in an unknown.  We always have first time CCW holsters and Don Hume holsters are usually suggested along with our nylon belt clip holsters and many of the Fobus products to get something from a starting point.  It's not that we think they are not good holsters it's just that they are not they pricey and can be had for around $25-$40.  Compare that to Crossbreed holsters and some of the Galco leather holsters and you're at about 1/3 of the cost.  Once a gun owner has more experience in knowing what to buy they can spend all they want with us, but we always try to help customers avoid buyer's remorse or have to deal with returns.