Been there, done that was tactical clothing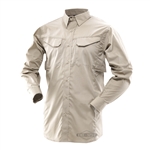 This is a niche market but it appeals to a very hardcore group of people.  Much of it is preference driven whether it's Condor tactical vests, molle gear or Vertx product line.   The costs of jackets could be from $89.99 to over $400 depending on what features and quality you want.   We all remember what it was like to shop in an Army Navy store and buy surplus military gear, especially those of us that remember the fall of the Eastern Communist Countries and all of the stuff that was sold off in military depots.   Some of that was cool to have, but the smell had to be washed out and most of it was in the BDU category and not a lot of features like some of the newer tactical clothing companies like 5.11 Tactical or Tru-Spec make.
We've seen various companies take adventures in making certain tactical pants but the quality was never there.  Only hardcore clothing companies have been able to cut into the tactical clothing market and that is only about a  half dozen companies that still make user friendly and quality shirts, pants, shorts, vests and jackets.   Tru-Spec makes some new jackets that are knock offs of the old M65 jacket but once you put it on and feel the brand new quality, you'll know why it was time to update or clean out  your old jackets especially if you  are concealed carry holder.  It seems Woolrich Elite Series Tactical has been sold off so that's another Fail for the tactical clothing world but you never know when someone has a new design that catches everyone's attention.