Aimpoint Patrol Rifle Optic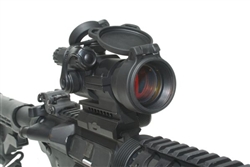 We sold a boat load of Eotech sights last year and probable because I, personally, am a big fan of that zero magnification optic.   The MOA circle and the 65MOA circle really gets picked up by my eyes and I never feel inhibited when engaging multiple targets.   I've done quite a few optic tests at my gun range and really learned a lot in this last year pertaining to the Trijicon, Eotech and Aimpoint optics.   Being that I am a firearm instructor it's actually more fun for me to bring new shooters or less experienced shooters to the range and see how they learn.   I've done tests with AK variants and AR15's and time and time again ended up with shooters choosing an M4 Carbine over the AK.   Usually a 50yd iron sight test and differences in hit counts between each.
I won't let this turn into an AR15 vs AK debate, but I find it hard to argue that a less trained operator will be better with an AK than an AR15.   Recently we started stocking the Aimpoint Patrol Rifle Optic has a staple optic for those looking for a red dot optic under $400 that comes with a mount.  Mounts can complicated decisions on optics especially when people see that it might start at a $140-$400 decision, just for a mount.   Aimpoint has had the red dot market for a long time because their optics have been field tested for a long time with military coming back from War and buying the same optic for their personal firearms.   The Aimpoint Patrol Rifle optic has several night vision settings as well as other variable power settings.  I highly recommend looking into getting a magnifier because you will increase your ability to identify targets as well as engage more accurately at 300yds + if need be.