Desantis Pistol Belts when image and durability matter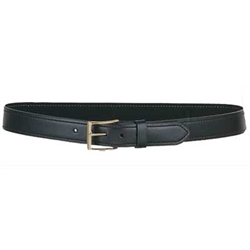 We offer a very large selection of belts because there are so many different objectives people are looking for.   We often see military personnel and First Responders coming in needing different belts when events are coming up or they are being deployed.   The standards are high and we sell alot of Blackhawk Rescue belts, and Elite Survival Systems Assault Rescue belts and often the Elite Survival Cobra Belt.  Some of those are pretty heavy but if you've had experience repelling or trying to pull yourself or someone else out of a dangerous situation, the last thing you want to have happen is a belt failure and it does happen.   Recently I've heard of 2 situations where belts and gear have broken off during foot pursuits, belts can fail and shoe laces come untied and such simple things can affect your ability to defend yourself.  We get asked to carry cheap stuff from time to time but we are often referencing equipment failures when people see price differences and explain to them why they are so.
All gear and accessories have failure points, all leather holsters will eventually soften but there are ways to prolong their life.   We have our list of highly suggested gun belts and the #1 pistol belt we suggest you consider are the Desantis pistol belts, we've moved a ton of the Blackhawk Pistol Belts in the past but they do not last as long as the Desantis.   Not everyone who is CCWing is going to need a 1.5 inch belt, pocket carry is very common these days and should not be ruled out considering there are so many high quality .380 and even 9mm compact autos.  The high capacity full size firearms are extra security but over time many people move towards comfort and give up capacity.   If you wear leather a lot there are things you can do to prolong the life of your pistol belt with both image.   Expect us to carry more of the Desantis leather belt line in the future.