Don Hume Leather Holsters you might find what you were looking for!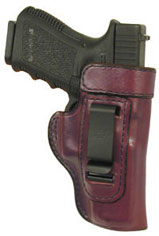 Aside from Fobus holsters, I have a large selection of Don Hume holsters from IWB holsters to the don hum JIT or (just in time) holsters.    One of the major factors in owning so many of them is the fact I'm not breaking the bank and they get the job done.    There are plenty of times I have a change of scenery and usually go to a small .380 pistol when where a suit and tie, or I switch to a medium frame semi-auto like a Glock 30.  The Don Hume H715 leather holster works well for an inside the waistband for the Glock 30 and I've owned them for close to 10yrs and they are still performing well.   One of the biggest problems we find with these holsters is they are not always available and certain firearm holsters can be unavailable for months due to the know fact that Don Hume Leather makes great CCW holsters.
Like many products it's really about personal preference and one holster style may not be good for all firearms.   Every firearm can have a different balance to it and it will really come out when using clip on holsters.   I normally shy away from gun holsters that don't have metal clips but Don Hume Holsters are one of the exceptions.   I  have had holster clips fail  on me  in numerous ways from flat out breaking, to clips being poorly designed and popping off a belt if  you move your body certain ways.   If you are looking for a paddle holsters, we usually recommend people start off with Fobus holsters, but if you are looking for a leather holster, Don Hume makes a great starting point.