Visibility and profile of firearms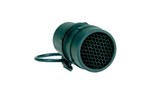 With all of those new hi-visibility gun sights out there the look of the traditional firearm is changing.  It's not that uncommon to see a firearm like an AK with bright green, yellow or red sights.   Changing the sight color of your gun may dramatically speed up your target acquisition.   I really don't mind people doing something like this because it's better than putting optics on your firearm.  Some of the small red dot optics like the RM1 from Trijicon are nice, but they still make holstering the firearm or carrying a firearm like this a little too bulky.  If there was a way to get the sights to fold down, that would be a better setup.
Folding pistol sights would be something that I would love to see some day, if they can do it for a carbine they should be able to do it with a handgun.  Trijicon Rifle Scopes have varying profiles and some of the ones that are used by the military are meant to limit the need for batteries, but there are always trade offs.   I like Trijicon optics, but I do  not like the idea of having a hi-viz target indicator on my carbine and announce where I am.   The TA01NSN is still my favorite ACOG, but been low-profile means less of a chance of getting targeted.   The Trijicon Kill Flash is a much for all owners of Trijicon ACOGS.