Using tools properly and not depending on them…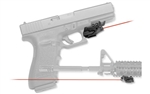 There are many things you can attach to your firearm, whether it's a handgun or a rifle, will help you get the job done.  Flashlights are a must for home defense but it's  up to you to decide if you want to attach it directly to your firearm or keep it separately.   It's not a good argument to shoot into the darkness, and I have to admit that I have heard of accidents where people shot family members or pets because they did not identify them.   One tactic that is often overlooked in many situations is that a home owner can simply turn on the lights in their home and wiring your home to be able to turn on major rooms from the second floor of your  home is something worth considering.  If you did have your electrical wiring done like this, you would simply flip a switch and get more candle power than any flashlight would give you.
Lasers are something that we see more often these days and it's mostly for the smaller frame semi-autos.  I personally keep one of the Crimson Trace laser grips on my j-frame revolver because it gives me more confidence in hitting my target at close ranges, and in low light.   The small radius of a .380 or a snub nose revolver gives reason to attach a laser grip.   Laser grips and battery life have dramatically improved in the last decade and even the color has changed from red, to the widely  used green lasers that the military has already been adopting.  There are different flashlights that have laser and light combinations also worth considering.