New Product line coming in soon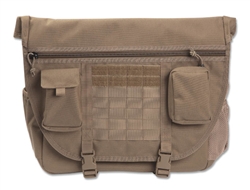 We just got in some more of the Elite Survival tactical messenger bags and we've very happy with what we are seeing.  Just holding up the quality of the Made in USA product line compared to the 5.11 and Bulldog nylon cases gives you some contrast.  Blackhawk and Bulldog make some nice stuff for the money, but if you want something to show off and brag about, check out the Elite Survival Systems product line.   I am going to have to admit that I have been an Elite Survival Systems fan for almost a decade and I found out about them while shopping for a gun case for my DSA FAL.
The Tactical Messenger bag is a bit larger than what I was expecting but the waterproof compartment is about the size I would think someone would want.   We've sold a few to guys running laptops and solar power systems and the Elite Survival Systems bags we are selling worked well for them. The Elite Survival Tactical Messenger bag is for law enforcement and military applications in the modern age.  Being able to stow tactical gear especially electronics and work in adverse environments is a hard thing to do.  If you are in the area stop by our Pennsylvania location and check out the gear yourself.