Magpul Slings and all those rail attachments and push buttons and claws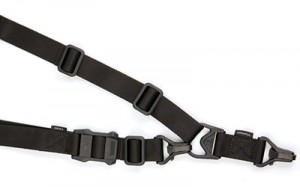 If it has a screw on it, it can come loose.   That's why you see a lot more of the quick detail mounts on optics rather than screw on.   Loctite everything that has a screw and make sure you don't over torque anything.    I personally mark all of the screw points with a blue marking pen so I can visually see what might be coming loose because I've had thousands of rounds through some of my carbines and after almost 10yrs of owning them, even though they have been very reliable, every tool has it's failing point, and every mechanical part will wear out at some point.   Guns jam and things break in this industry and there are horror stories out there where Law Enforcement and Military deaths occurred while there jammed or broken firearms were discovered next to them.  In Vietnam there were serious issues with the M16 when it was first issue and the ammunition was the primary problem, do you really want to keep the cheap stuff around and think just because your Carbine runs with cheap ammo that your life should depend on it?
Properly mounting optics, flashlights and having extra batteries available are added insurance but don't forget to check to make sure your stock is securely tightened down and if you are attaching sling attachements, make sure you are keeping an eye on them.   We try to keep the Magpul Slings in stock because it's yet another one of those things that you need to know what you are buying and know how to attach it to your AR15 carbine before you go home and find out that you have the wrong sling attachments or it just doesn't fit you right.   I lean heavily toward the Magpul MS3 and the Magpul MS4 due to the fact that the MS3 is a much better design over the previous MS2 which the MS2 Sling had material that frayed and the clamp wasn't as sturdy.   Many of the stocks and quad rails we see now have QD attachment points so you don't have to go out and buy another screw on device just to keep the sling where you want it and then have to wonder what that failing point is.  All these accessories that go on your firearm can be an asset but everyone of them needs to be put on right.