AR15 upgrades without the hassles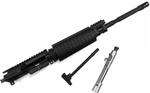 There are enormous numbers of things you can do to customize your AR15 style rifles but one thing to consider is every time you do a gunsmithing job to your firearm, that's one more thing that may not be  installed correctly.   The more you add on, the more can fall off, that goes from changing magazine releases, trigger guards, triggers, hand guards, gun grips and and more.   Instead of taking everything off of your firearm, it's really better to just get another upper receiver or another firearm.   Especially if you think there is a chance you won't like the modifications.  Piston conversions are another thing to be careful about because the gun should be functioning reliable after the changes and not less reliable.   And remember don't fix something that isn't broken.
Going back and forth from a direct impingement firearm to a pistol driven gun and then back to DI is a bad idea.   There are some really cost effective versions of the piston uppers like the CMMG uppers for sale at Rogue Elite.   LWRC is still the king of the piston driver uppers especially after the new lightweight upper receivers have come out that are just slightly over $1000.    The M4 LEPII is a popular upper receiver and only change of your recoil spring should do the trick.   The key to maintaining a reliable firearm is to maintain it, not constantly mess around with it.   If  you want to do minor changes, go ahead, major changes to a firearm, get a new one.   The cost in time and money may be about the same.