Do you want a plinking gun or a combat durable firearm?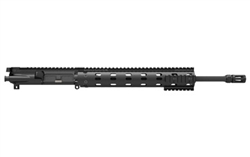 I am still a big fan of SWAT magazine even though print magazines seem to get written off as gun rags, but I find this to be utter bull shit.   Not all gun magazines the are the same and I for one mostly follow about a dozen gun writers because I want to hear their opinions on some of the products out there.  Yes, the gun industry is full of materialism and novelties, but there is a real world out there and I want to hear from real world individuals about hardware that can cut it.   Much of the firearm industry is about preference, whether it's tactical pants or firearms.
There is cheap crap out there, although I'd say it's not so bad anymore because gun acceessories like Magpul have pretty much buried the competition.   Everyone and their dog is putting out a gun or AR15 upper receivers with the Magpul acessories on them.   They are not that expensive and they hold up.  Proper mounting is always a big deal with gun accessories but I've already cracked quite a few gun parts and none of them were Magpul accessories.