Range experiences with 1911s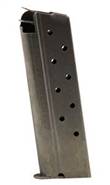 Although I understand that polymer guns are here to stay and they are far more technologically advanced than their early metal counterparts, I still enjoy shooting my 1911 handguns.   The 1911s that are being made today are really several generations beyond where the guns that crossed the European continent and fought on the beaches of the Pacific.   The best improvements I have seen in the 1911 design compared to the GI guns are #1 the pistol sights, and #2 the gun magazines.  The GI 1911 magazines weakness seemed to be the followers.   The slide stops were so heavy that many of the times the tabs on the magazine would bend and the slide would close on an empty chamber.
Wilson combat and Chip McCormack magazines have the best reputations for durability.   I'd have to say that I've had good experiences with both magazines and really can't say one is better than the other.   When it comes to many of the other pistol magazines,  I always go with factory magazines.   Now that the 1994 assault weapons ban has expired and many manufacturers were able to get their standard capacity magazines back on the market.   Without any real threat coming from Congress on gun control, prices have come down and it's really a good idea to stick with the magazines that your manufacturer makes for your gun.