If it's not a Blackhawk it's probable a Safariland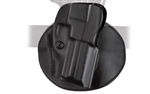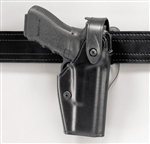 This is a sensitive debate because there is plenty of proof that a lack of training with any mechanical device, gun holster, Magpul Accessory ect, will lead to accidents or to mechanical failure.    Any operator that does not have the discipline to keep their finger off the trigger while racking the slide is eventually going to have an ND and pushing the Blackhawk Serpa on them in My personal opinion a really bad idea.  I've seen enough novice behavior on firing ranges to know that range time and muscle memory isn't something that will always come quickly and there are other retention holsters for Law Enforcement or CCW that are entry level yet still excellent holster.
Now that so many guns are being made with accessory rails, making sure you get the correct holster fit is going to mean double checking all of your specifications.   Safariland has a very good holster fit guide on their website that will help narrow down all of the available Safariland Holsters so you will know if they even have a holster for you if you are looking for one for your M&P or Springfield XD and want a TLR1, TLR2 or Surefire X300 flashlight on it.   There are a lot of reason to go with a Sig Sauer, Beretta 92, Government 1911 or Glock firearm if you want a light on it because even though Safarilands product line is vast, they don't make holsters for every firearm design out there.