Leather, Kydex, Suede and more gun holster options for Duty Holsters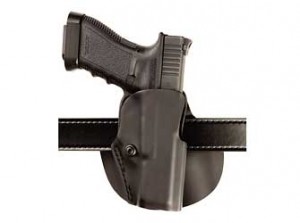 We get phone calls from customers  that ask very broad questions and sometimes it's apparent that people just want to know we're open and when they can stop buy.   The whole point of having a showroom  here in the town that we have one, was because there are a great many things that people don't want to buy online.  There are all kinds of parts and accessories that also Police and Security agencies lose or wear out.   Identify badges, leather wallets, key chains, handgun keys and the list goes on.   A few days ago we had mace pouches that we had to fit to various pepper sprays because the fit had to be perfect and not just hold it, it had to hold it correctly so it would be easily secured and deployed.
Handgun and flashlight holders are all different in style and fit.   We' gone through a long list of accessories and flipped through the Safariland holsters and accessories book that we got when we became a dealer.    The differences between a holster that worked for you and a holster that was kinda working are slight and some safety issues can come about if you don't go by product codes or get technical support.   Even the differences between a streamlight Strion, Stinger ect can be vest because the bezel or lenses have different dimensions.  Sometimes it's nice to just be able to go in and ask questions from someoone that knows what they are doing.