Some Experience with the Vortex Magnifiers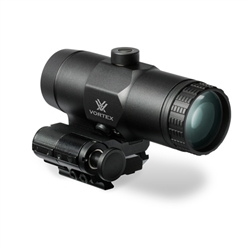 I've got a little experience with the Vortex Magnifiers that I can give some comparison and feedback for anyone interested in one.  First things first, and even our Vortex Rep said to us, these aren't combat or military optics but they are pretty darn good.    I was able to compare the an Eotech Gen 3 and the Vortex, as well as My own older Eotech Gen 2 Magnifier.   I'm probable going to sell off My Gen 2 at some point because it's pretty obvious to me that the lever you push to let the spring loaded release just begs to break.  I often say to people when they start mounting stuff on their firearms that "every screw comes loose and every part can break" and the fewer parts and screws you have the less you have to fail. The Gen 3 is kind of clunky but it just seems to be a better idea.
Now back to the Vortex option,  we get a lot of calls from people asking us if these are as good as the Aimpoint magnifier or the Eotech, after playing with Vortex 3mx-3t  I have to say that it seems to be all about the mounts, the clarity differences was almost zero, I did find that the eye relief was better on the Vortex magnifier than the Eotech but not by much, maybe 5% difference.  These make excellent target identifiers so you don't have to call a cease fire on the range, just flip the magnifier over and you've got 3x.  These have been hard to keep in stock and several local Police Departments are giving us feedback about them so I'll probable post a follow up at some point.