Vortex Magnifiers, do you need magnification?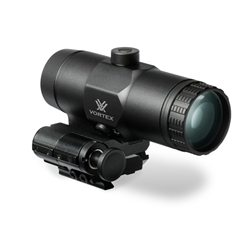 In the last 20yrs of AR15 range experience, I've watch people go from heavy barrel 20 " carry handle AR15's with  Trijicon ACOGS mounted on them to Short barreled rifles (SBR's).  The AR platform is an extremely versatile Carbine and it can be used for everything from varmint hunting, target shooting, home defense, or in your local police department. The ballistic variations also make it a versatile firearm because with the right ammunition, you can huge variations in performance. Once you have a lower receiver there are numerous upper receiver variations to choose from instead of having to buy multiple firearms.  The only other thing to consider is how versatile is your optic?
One thing that people often run into when they go to a shooting range and learn how to shoot at longer distances is that many red dot or zero magnification CQB optics actually inhibit your ability to see a target.  A 4 MOA red dot is going to make a 16MOA reticle at 400yds.  At my target range we have steel targets that are smaller than that and it's not going to be easy to hit unless you consider using something like a Vortex Magnifier, Aimpoint Magnifier, Eotech Magnifier or the Mako Magnifier.  There are big differences in the way all of those mount on a firearm but not much difference in clarity except the Mako one.  In my humble opinion, the Eotech and the Vortex are the ones to think about.  If you want a more durable mounting system, you're going to pay double the price of the Vortex VMX-3T if that's what you need.  The other thing to think about is if you don't want the magnifier on your firearm anymore, just take it off and use it when you  want to, there's nothing to have to worry about when it comes to zeroing it back in.