Military rifles and hunting optics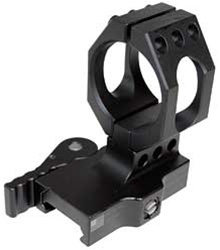 Another issue you may run into when using hunting style optics on a military style rifle is this.   What are you going to do if the optic fails or breaks?   Are you going to need to u se a screw driver to remove it or can you detach it quickly?   Quick detach optics and accessories can become very important if you have a failure of some sort.   For instance, I've seen plenty of incidences where soldiers in Iraq took bullets in their optics but the rifles still worked.   Always have backup irons on an M4 is a good idea.  Not only can batteries on something like a Eotech gun sight go down, but sometimes that can actually get broken from being slammed around or from fragmentation.   The Mini 14 ranch rifle is a very manueverable Carbine.   Even though the Eotech optic is primarily for military purposes, I've found the Eotech to work very well on a Mini 14 Ranch rifle.    The MOA dot works well with a gun that can shoot MOA as long as the rifle barrel has not heated up, which normally occurs after the 3rd shot, but from a hunting standpoint, I rarely know anyone that takes 3 shots on any hunting trip.
It is true that there is very little difference in application between a military optic and a hunting optic.   The really difference should really be in durability.   There are plenty of good quality hunting optics that will hold up to being dropped every once in awhile, but it has an awful lot to do with the mounts that are on the scope.   Many military rifle scopes attach to the rail of an A3 mount and there is very little to do other than adjust windage and elevation.   It took me a long time to be able to mount cylinder rifle scope properly because you'll find out really fast if your scope in incorrectly mounted when making elevation or windage adjustments at long distances.   The first sign of an improperly mounted rifle scope is noticing that your point of impact is changing on a diagonal line.   The trick I learned was to make sure you are on a flat surface in the first place and then set your horizontal reticle lines to match a flat object in your home.   I've setup optics on firing lines and found out that even though the target looked like it was level with me, the table I was shooting from was actually slanted.