Beware of the less expensive red dots, but you might find a good one and Aimpoint knows it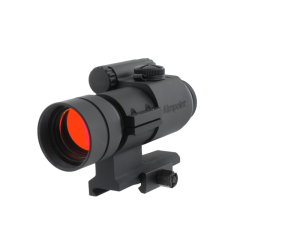 We get a large customer base from plinkers to Special Forces.   The airsoft industry has exploded and there are a lot of products that can crossover and have wide applications but ammunition, firearm maintenance and quality optics and a good operation with a good trigger finger are what win a fight.   You will not find me shooting Wolf 223 in any of  my AR15 rifles because even if that ammo is running in your firearm for now, there is so much crap that can build up over time that it's not an "if" but a "when" it will cause a malfunction.   There is always something new coming out at SHOT Show each year and it's almost like the seeing the Hasbro commercials for the new Star Wars or G.I. Joe toys.   They try to push an excited energy to you about how cool it is and you then ask your Mom to buy it.   That same mentality goes on in the Firearm Industry and from a retail standpoint it's same thing every year.   Somebody comes in because they heard how great some new product was and we just sit back and see how well the product sells.
Complaints, returns and Warranties are what we factor in with the optics we sell, but recently we have been hearing  a lot of customers reference that various Red Dot optics they have been using have been performing well.   Everyone one of these AR15 optics companies has a marketing department and it certainly looks like Aimpoint Red Dots are going to have a new, less expensive optic on the market.   How expensive is it to make a zero magnification 2 MOA dot?   As much as like the Trijicon Solar/battery technological advancements, I think they pretty much priced themselves out of the red dot market because I have a hard time justifying any quality red dot costing more than $400-$600 and the Trijicon SRS sight is almost $1000.  The new Aimpoint Carbine Optic runs on one 3N  battery which should last for a year turned on (please turn it off and make it last longer)  but it looks like they took out the night vision ect.  I still haven't gotten accurate info on the MAP pricing is going to be but we'll be adding several  new Aimpoint products to our website shortly.