New Tru-Spec Backpacks around and under $100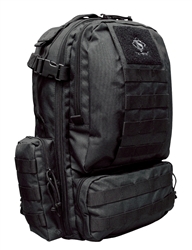 Nylon gear is about quality and mission purposes.   We have a very broad customer base that sometimes use the same products, just different colors, something like a Plate Carrier can look SWAT or Tactical in Black, Military in Multicam or Tan, and EMS in Navy or Red for Fireman.   The same goes for backpacks and molle gear.   We often brag to people about how anesthesiologists and a surgeons use some of the tactical bags were sell and they aren't even gun people.   Sometimes it's not just about the design of the bag, but the size of the bag.   Some of the Tru-Spec backpacks we have been selling like the Gunny Tour of duty bags are pretty nice, but some say they are a little heavy and a little bit of an overkill for their needs.   We recently listed their Trek Sling pack and a few others because the price point was very appealing to many of our customers.
One thing we don't sell is low end nylon.   I'm not going to name, names, but if you think a $35 backpack is something that is going to hold up, well, you are going to find out after using it.   You can over pay for a brand name, but we always like to give people options,   the Tru-Spec backpacks are good quality nylon at a reasonable price and very versatile.    The Tru-Spec Circadian seems to be the most popular so far, just based on simplicity, design and cost.   The Signature Gunny Line Tour of Duty packs seem to be for camping or long term deployments.  Take a look and see what they have, these are definitely a big step up from some of the other backpacks Tru-Spec has offered.