New Tactical Clothing for women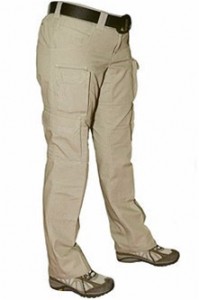 The Style 702 womens operator grade lightweight pants will be made of the same 100% cotton ripstop material that the men's pants are made of, the stitching and durability are the same, but the buck stops there, or should we say doe?   The pocket designs are unique to the womens pants and nothing like anything Eotac has out.   The front pockets will easily accomodate pocket holsters, the two additional wallet type pockets can hold ID or even something as large as a pistol magazine. The pant legs are slightly tapered for a better look while still allowing access to an ankle holster or being worn with boots.  These pants will be available in late Winter and will come in Black, Khaki, Navy blue and OD Green.
When some people here that there are tactical pants for women, people think the Hello Kitty pink camo pants are what they're talking about.   If your girlfriend is wearing something like this it's  not to offend you or put her down, but the sad reality is there are an awful lot of women out there that are wearing ments pants that were designed for men.    The new evolution of warfare involving non uniformed clothing, the tactical apparel market has been exploding.    The tactical apparel company Eotac which successful infilltrated the market with it's (mostly applicable to men) apparel is now trying to cut into the market with Eotac clothing for women.