Tru-Spec Men's Tactical Boot Cut Pants – Formerly the Gunny Pant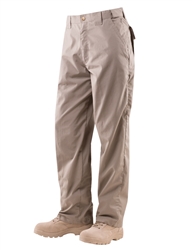 This was actually the first pant that I "really" liked that Tru-Spec made.   There is kind of a trademark design that Tru-Spec always had with the way their pockets were cut, and this was more of a design that I preferred due to the rear wallet pockets having a straight look and not the angled cut that the majority of the Tru-Spec 24/ Series pants had.   The BDU Pockets are also designed differently with an open slotted pocket on the outside and a larger BDU pocket behind it.  Now that so many people are carrying cell phones this was an easy access pocket for something just like that.   Once you star wearing clothing like this you don't really need a belt cell phone carrier anymore.
This is something that people really have a preference over and often ask for the boot cut or non-boot cut.  Just like there are differences in the way jeans are designed, not all tactical clothing companies have the same cut, or fit, even if the waist sizes are the same.   Tru-Spec Men's Tactical Boot Cut Pants are available in Black or Khaki and also still in the $44.95 dollar range, there are also several other fit designs within the Tru-Spec product line so if one isn't for you, you still have other styles like the Tru-Spec Ascent, Tru-Spec Eclipse and Tru-Spec Simply Tactical.