Concealed Carry Vest Options if you wore Eotac Vests or Woolrich Elite Vests, now what? Rothco Vests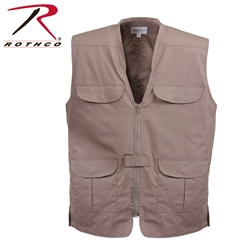 We have always had a very strong presence in the competition shooting sports, primarily because an enormous number of people that shoot IDPA, 3 Gun ect. wore the extremely popular Woolrich Elite 4424 Light Weight Tactical Vest, and we are proud to have attended and watched people use them at the IDPA Nationals that were hosted 2 times here in Pennsylvania several years ago.   There are plenty of vests out there that you can wear on the range, but can you wear it on the range and wear it with your EDC?   5.11 Tactical has always had several options, but some of their vests are too tactical or they design them and discontinue them before you can get around to getting one.   Tru-Spec had 2 vests and discontinued both of them and were not seeing a new one yet, even though we heard rumors they were working on one.  We've recently picked up the Rothco Vests and the majority of the Rothco product line because it really seems to have grown in the concealed carry market which, compared to many other tactical clothing lines, they don't do CCW very well.
I can speak for the long term quality control of the entire product line, but seeing that Rothco has well over 100,000 Facebook likers, they have a lot of people where their stuff.   It still amazes the number of Rudy Project Competitors that were still wearing the Woolrich Elite 4424 and Eotac 102 Vests were have long ceased to exist, but in 2017 we really only can suggest people consider the 5.11 Tactical or Rothco Vests for competition sports or Concealed Carry.  There is always going to be issues and complaints about the material that is used, in hot weather, people want 100% cotton ripstop, but good luck trying to find a manufacturer for that, the majority of them are going to be 65/35 Polyester Cotton Ripstop or the Rothco 60% Cotton 40% Polyester.   The stiffer material sweeps better but it doesn't breath as well as the all cotton.