Tru-Spec 24-7 SERIES ECLIPSE TACTICAL PANTS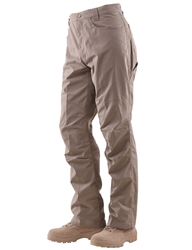 If you're looking for something extremely light weight while we transition into hot weather clothing season, this is the best thing besides wearing shorts.  The pocket designs are completely different than anything else in the Tru-Spec inventory but it is something I personally wear and highly suggest for hot weather.   The 100% nylon pant is so lightweight that I would not recommend it for pocket carry unless you put a piece of cardboard or or something that helps avoid printing because you will print in these.  There is a 65/35 poly cotton ripstop version of this pant but I don't find it as cutting edge. Tru-Spec 24-7 SERIES ECLIPSE TACTICAL PANTS is best worn in the nylon style but it is extremely forgiving in hot weather.
I always have to transition my knife to the side leg pockets and my Kimber pepper blaster to the other leg pocket but theses are extremely popular in the lower half of the Country.  Tru-Spec 24-7 SERIES ECLIPSE TACTICAL PANTS is highly breathable and when it's in the 90F range, the difference in sweating and fatigue is considerable.   This is something I consider as a trade off for much of the 100% cotton ripstop pants that were in my inventory.   There is no elastic waistband so you are going to have to be more accurate in finding your actual size and if you are going to be carrying IWB you are going to have to consider a size up.