Eotac Style 202 Tactical Pants review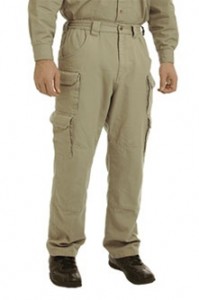 I've been wearing Eotac tactical pants for almost 2yrs now.   We got a hold of some of the early production that were slightly different in fit from what is being produced now.   There were originally a few complaints coming from customers that were almost always weight lifters or body buildings.   Some of the pants were getting  a little tight around the thighs so Eotac quickly changed the production.    Now that the pants have gone through several productions, we've gotten great response from our customers on the design of the pants.  Many of our customers are not happy about the 5.11 tactical pants that they have been wearing for  years and wanted something new,  a few of them were Woolrich Elite Series customers the wanted to try something new.
There have been times I've been at conventions where I'd have to admit that it was hard to tell what manufacturer people were wearing because so many of them looked almost identical, but once you look closely you can tell right away.   The reality is this, there are plenty of well made pants out there, but there are also just as many cheap  tactical pants that if they were worn several times a month, and washed more than a few times, they'll shrink or fall apart.   Eotac not only puts itself in the category of higher quality, but it offers a Warranty for all of their products if there is a production issue.    The most unique thing I have found about wearing these pants over 5.11 and Woolrich Elite, is the pockets are bellowed.    If you need pockets for mag dumps or carry lots of gear, these pants will give you a little more room, but not balloon out like BDU pants do.