All those tactical pants and what to choose from?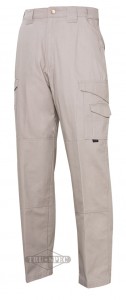 We recently got in another shipment of Blackhawk Warrior Wear and some of the Tru-Spec 24/7 in limited quantities.  Like many companies out there we have been trying to monitor what is going on with the clothing manufacturers because there are plenty of credible rumors going around about people leaving China and looking elsewhere.  Much of the 5.11 tactical products are geared to Law Enforcement and EMS, and they do a great job of keeping that market, but there is plenty of room for competition for comfort and quality control.   We've done a few movement tests with the tactical clothing that we got in and Tru-Spec was the hands down winner.
The 24/7 line from Tru-Spec would not pass as concealed carry pants  in my opinion because real concealed carry means not looking like you are packing a gun.  Most of the 5.11 tactical, Blackhawk tactical pants and even Woolrich Elite and the defunct Eotac line look very similiar from a few feet away.   The big difference is the fit in my opinion.   Guys with different body sizes mostly guys that are body builders.   Sometimes people forget this and that is why there are so many tactical clothing companies because none of them can accommodate everyone.