Woolrich Elite style 44429 pants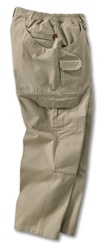 There is still an awful lot of confusion going on for customers that have been buying the Woolrich Elite products since their original inception.   The thing we've always liked about selling Woolrich products is the name basically sold itself.  That's a hard thing to do in this cluttered tactical clothing market, but I have to say that 90% of the times people have walked in our doors and saw the name Woolrich, they always referenced a jacket or layer of clothing that they've had for decades.   There have been some changes since the original Woolrich Elite Series clothing came out, but the quality of the products has not changed.
Looking over all of the  items that have sold over the  years in our store, the Woolrich Elite Style 44429 mens tactical pants is one of the most popular.   These tactical pants are built like a tank and the only thing some people have said that was negative was that they were a little on the  heavy side.   I've compared them to some of the 5.11 tactical pants that say they are 8.5 oz cotton canvas, but both pants do not weigh or feel the same.  There has also been a slight product SKU change from the original Woolrich Elite product line.  The Style 4429 pants are the same as the 444429 pants.  The only real change we have seen is the wallet id pocket has been slightly altered and opened up.  If  you wore Eotac style 202 pants, this is really the only alternative.