3 suggestions for the 7 day CCW holder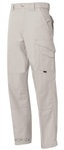 If you are a 24/7 concealed carry holder you probable already know most of this, but there are always new carriers that can use the advice and avoid discomfort and irritation.  I like many before me stared out carrying a 1911 45acp and felt well armed, but after several years of either bruising myself or having a holster fail, it was time to move to something smaller.   The 1911 is actually a very good gun for CCW because it is very thin and not really as heavy as some of the other 45acp guns.   The Springfield XD is probable the second most popular firearm but that thing is a tank when loaded to capacity.
I have many friends that have carried the 1911 in the small of their back, but to me this is something that can cause grave injury.   The whole tactical pants market is absolutely flooded to capacity, but there is no reason that with an elastic waistband, you should be able to carry a gun at 3 or 9 o'clock.   If you can carry a gun on a paddle holster you can usually get away with carrying a larger firearm, IWB is for thinner guns depending on your body type but that usually means a single stack firearm.  And then there is always pocket carry and  thing is by far the most comfortable way of carrying.