Tactical pants you won't have to iron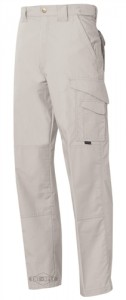 The complaint we've gotten from some of our Law Enforcement officers that were trying out the Woolrich Elite pants and the Eotac did not like the fact that the 100% cotton rip stop pants had to be ironed if you did not take them out of the dryer fast enough.  We thought that was a non-issue in the beginning but more and more people have voiced it.  Since so many people out there have worn 5.11 tactical clothing in the past, just about everyone in the tactical shirt, tactical pants and other apparel get compared to 5.11.
We have 5 weeks left of the Tru Spec tactical clothing promo running and if you wore or are wearing 5.11 tactical clothing you really should check out these Tru Spec 24/7 pants.   The Tru Spec tactical pants that are a 65%/35% poly cotton rip stop are a lower maintenance pants that don't look too bad either.   These tactical pants are probable less tactical and more ccw friendly since they have the knife and flashlight pockets already designed into them.