Differences between TruSpec and 5.11 EMS pants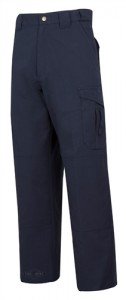 5.11 EMS pants seem to be on the majority of the paramedics in our area but we've noticed many were not happy with the fit of the pants and wanted to try the TruSpec.  Since we're testing out various tactical and EMS products we're tip toeing with our inventory.  Today a customer asked us if he could try on the TruSpec pants and find out what the differences, by the time he was done wearing them around the store.  He was teaching us more about the product line than we knew before.
The Tru Spec EMS pants look almost identical to the 5.11 Tactical EMS pant but there are some noticeable differences for anyone that wears one of them long enough.  The major differences between these Tru Spec EMS pants and the other are the rear pockets.  The back left pocket has an ID pocket and the right side has the trademark 5.11 sash.   The TruSpec pants have a flap that is the same as the regular tactical pant and in all honesty a much normal looking design.