You carry a firearm and have to think about Fall, Winter, Spring and Summer apparel, here's some suggestions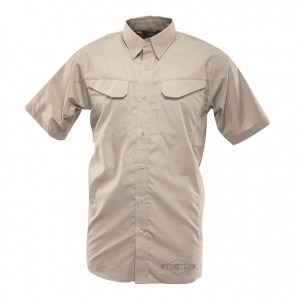 It looks like Woolrich Elite Series Tactical is no more and the clothing has been drying up for some time now.   They never seemed to be able to move on and market their products after Backyard outfitter ceased marketing their products.    Even after all of these years of selling things that competed in the market against the 5.11 products, we still have customers coming in and bashing the 5.11 product line as having sub-par quality control.  It's one reason why we don't stock their clothing in large quantities.   Much of the fabric shrinks or falls apart and we don't want to deal with the customer complaints for tactical pants, tactical shirts, tactical vests or jackets since this happens so much.   They are truely a monster of a company but there are better quality products out there for less money.
Finding shirts that fit you is something you are going to have to try out for yourself, the Blackhawk and Tru-Spec product lines have very good quality control, but sizing and fit are going to be different.  Everyone asks us how the cut is and every shirt and even some styles are cut differently.   TruSpec tactical apparel has uniform and tactical shirts as well as concealed carry shirts and the fabric, lightweight and ultralightweight tactical shirts are very different.  The gunny tactical line gives a different angle to the product line and the Tru-Spec 24/7 Series clothing and the Tru-Spec Simple Tactical clothing is going to really cut into Blackhawk and 5.11 tactical market just based on quality control and price points.