What tactical pants work for you?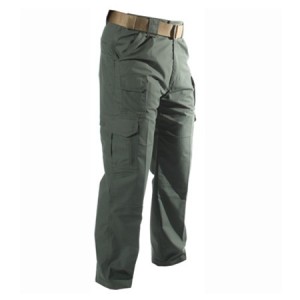 I've been wearing Tru-Spec and Blackhawk pants for almost a year and my tastes have changed dramatically.   I started out with the Tru-Spec 24/7 Series pants but had a few issues with my wallet being kicked out of the ID pocket and it started to bother me so much I re-considered wearing the Blackhawk Tactical pants.  I normally carry pepper spray in the front pockets of my Woolrich Elite Series Tactical pants and my Eotac pants but only Blackhawk and 5.11 tactical had a pocket that was similar to the platform that I was use to.  I attempted to get into 5.11 tactical pants several times but have gotten so much negative flack and proved it myself with several wear tests that it's hard for me to even have a 5.11 tactical product in my clothing rotation.
The Tru-Spec 24/7 Series pants may not work for you but the quality is defanitely there.  I would defanitely say that the Blackhawk tactical pants that I've been wearing for 4 months now have grown on me.  I wish the side cargo pockets were about 2 inches deeper and I wish they had an ID pocket in the seat area on the left side.  If Blackhawk Warrior Wear did that these might become my favorite tactical pants.   I will be making my switch to tactical shorts in a few weeks after an unseasonable cold Spring.   I'm not sure that here in Pennsylvania the Poly Cotton rip stop pants will be comfortable in 100F weather but I will definitely be posting  about various tactical pants and tactical shorts.